<! DO NOT MODIFY consortium.md directly! Instead, modify consortium_header.txt (for the part prior to the mugshots) or consortium_names_to_build_table.txt (to add/remove members) and then run yorick -i build_consortiummd.i to generate consortium.md –>
MAVIS is a collaboration between the ASTRALIS consortium (Australia, with the AITC and AAO nodes), INAF (Italy, including the branches at Padova, Arcetri, Capodimonte, Milano and Roma), the Laboratoire d'Astrophysique de Marseille (LAM, France) and ESO.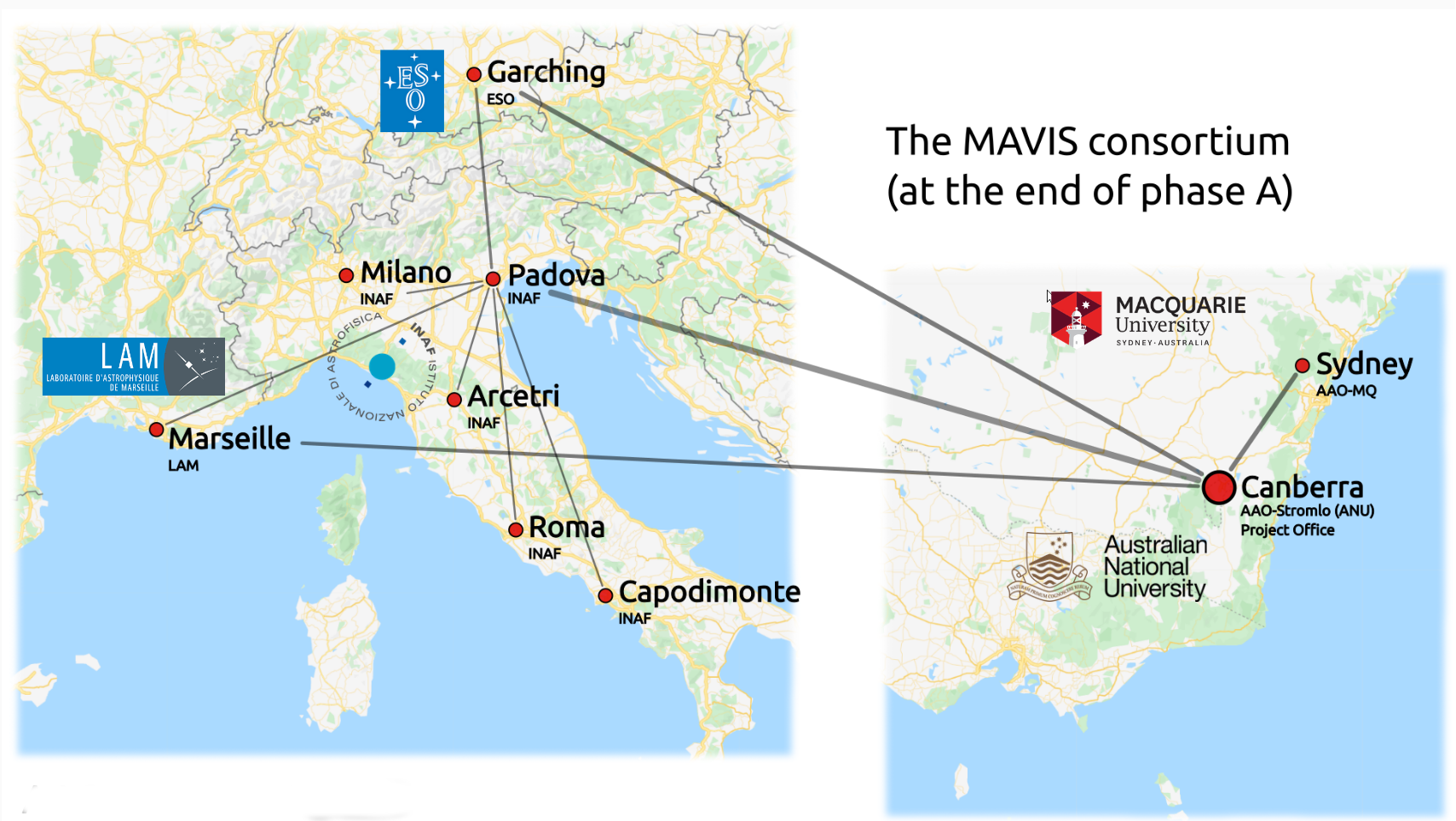 The image below is from the MAVIS first busy week at Osservatorio Asiago, Italy.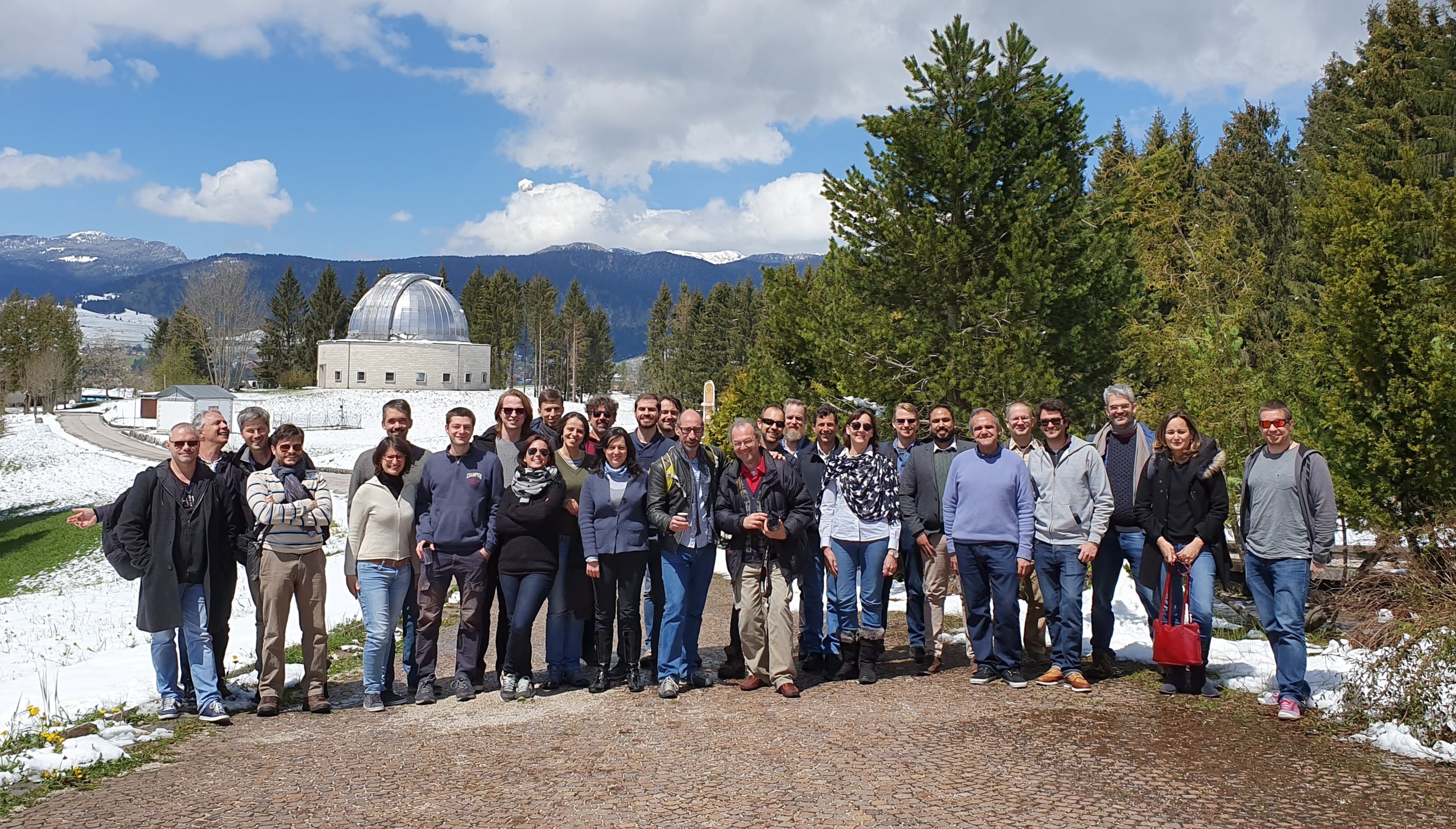 MAVIS Org Chart
The project org chart as it stands at the start of the phase B (orange line = project office).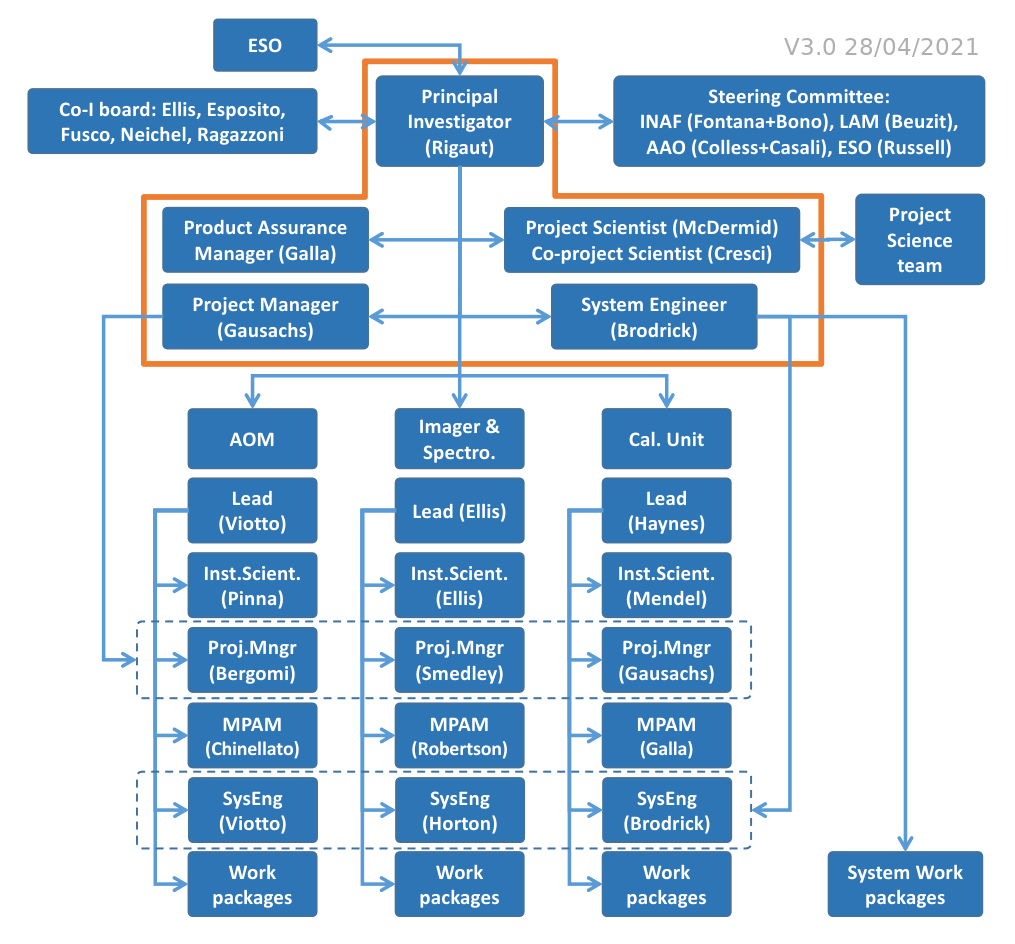 and top level schedule. First light is planned for the second semester 2027, in line with ELT first light.

Team Members
Sorted by first name. A happy team!

Alessio Zanutta
INAF-Milano

Alfio Puglisi
INAF-Arcetri

Andrea Balestra
INAF-Padova

Andrea Baruffolo
INAF-Padova

Andrea Bianco
INAF-Milano

Annino Vaccarella
Astralis-AITC

Anthony Horton
Astralis-AAO

Antonino Marasco
INAF-Arcetri

Antony Galla
Astralis-AITC

Aurelie Bonnefois
LAM

Benoit Neichel
LAM

Bernardo Salasnich
INAF-Padova

Brian Taylor
Astralis-AITC

Carmelo Arcidiacono
INAF-Padova

Caroline Lim
LAM

Cedric Plantet
INAF-Arcetri

Chiara Selmi
INAF-Arcetri

Christian Schwab
Astralis-AAO

Ciro Del Vecchio
INAF-Arcetri

Damien Gratadour
Astralis-AITC

Daniela Fantinel
INAF-Padova

Daniele Vassallo
INAF-Padova

David Brodrick
Astralis-AITC

David Robertson
Astralis-AAO

Davide Greggio
INAF-Padova

Davide Ricci
INAF-Padova

Demetrio Magrin
INAF-Padova

Dionne Haynes
Astralis-AITC

Edoardo Redaelli
INAF-Milano

Elena Carolo
INAF-Padova

Elia Costa
INAF-Padova

Elisa Portaluri
INAF-Padova

Enrico Pinna
INAF-Arcetri

Fabio Rossi
INAF-Arcetri

Fernando Pedichini
INAF-Roma

Francois Rigaut
Astralis-AITC

Fred Crous
LAM

Frederic Zamkotsian
LAM

Gaston Gausachs
Astralis-AITC

Gayandhi De Silva
Astralis-AAO

Giovanni Cresci
INAF-Arcetri

Giulio Capasso
INAF-Capodimonte

Giuseppe Bono
INAF-Roma

Guido Agapito
INAF-Arcetri

Hao Zhang
Astralis-AITC

Helen McGregor
Astralis-AAO

Israel Vaughn
Astralis-AITC

Jacopo Farinato
INAF-Padova

Jennifer Burgess
Astralis-AITC/ANUE

Jesse Cranney
Astralis-AITC

Jessica Zheng
Astralis-AAO

Julien Bernard
Astralis-AITC

Kalyan Radhakrishnan
INAF-Padova

Laura Magrini
INAF-Arcetri

Lew Waller
Astralis-AAO

Lorenzo Busoni
INAF-Arcetri

Luca Carbonaro
INAF-Arcetri

Luca Marafatto
INAF-Padova

Mahesh Mohanan
Astralis-AAO

Marco Bonaglia
INAF-Arcetri

Marco Gullieuszik
INAF-Padova

Marco Riva
INAF-Milano

Marco Stangalini
INAF-Roma

Maria Bergomi
INAF-Padova

Matteo Aliverti
INAF-Milano

Mirko Colapietro
INAF-Capodimonte

Nick Herrald
Astralis-AITC

Nicolas Doucet
Astralis-AITC

Nuria Lorente
Astralis-AAO

Olivier Beltramo-Martin
LAM

Paolo Grani
INAF-Arcetri

Pierre Haguenauer
ESO

Pietro Schipani
INAF-Capodimonte

Richard McDermid
Astralis-AAO

Roberto Ragazzoni
INAF-Padova

Romain Fetick
LAM

Ross Zhelem
Astralis-AAO

Rosanna Sordo
INAF-Padova

Runa Briguglio
INAF-Arcetri

Salvatore Savarese
INAF-Capodimonte

Scott Smedley
Astralis-AAO

Sergio D'Orsi
INAF-Capodimonte

Simon Ellis
Astralis-AAO

Simone Antoniucci
INAF-Roma

Simone Doniselli
INAF-Milano

Simone Esposito
INAF-Arcetri

Simonetta Chinellato
INAF-Padova

Stefan Stroebele
ESO

Stephanie Monty
Astralis-AITC

Qiongjie (Summer) Luo
Astralis-AAO

Thierry Fusco
LAM

Thomas Pfrommer
ESO

Timothy Chin
Astralis-AAO

Trevor Mendel
Astralis-AITC

Valentina Viotto
INAF-Padova

Warrick Schofield
Astralis-AITC

Will Saunders
Astralis-AAO